CHURCH OF ST STEPHEN (AGIOS STEFANOS) AT MANTAMADOS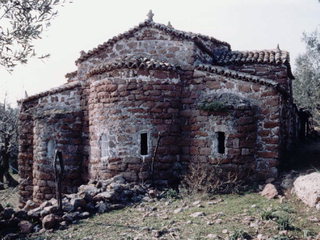 The church of St Stephen (Agios Stephanos) is located in the eastern pert of the island, near the village Mantamados. It belongs to the type of aisleless cruciform churches and dates approximately in the late Byzantine years. It is of relatively small dimensions and was totally constructed with carved stones of rose-colored trachyte.

It was initially roofed with a dome, which however had already collapsed when the traveler Newton visited the church in the mid-19th century. The roof was rebuilt by the local inhabitants, with the placing of wooden beams in the place of the dome and the covering with bricks. In the eastern side, three semicircle apses of the holy altar are discerned, while arches ornament the north and south wall.

The roofed shed with pillars in the west of the church is a more recent construction, too. Architectural elements of an older church and a Roman inscription are found incorporated in the walls.

The small settlement of "Aggeioplastes" (Potters), not far from the church itself, in a location called "Anichtos", with characteristic pottery workshops and furnaces is of particular interest as well.