CHURCH OF ST. ATHANASIOS AT MYTILENE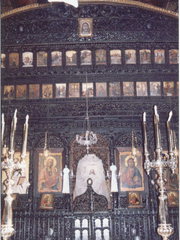 The cathedral of Mytilene is situated in the centre of the city and is dedicated to St Athanasios. It dates in the end of the 16th and the beginning of the 17th century and is built according to the architectural type of a domed basilica. In the interior it is ornamented with wall paintings in which influences from the Renaissance painting can be traced. The church's templon -which is presently being restored- constitutes one of the most beautiful examples of post-Byzantine wood carving on Lesbos. Its bell-tower is also of architectural interest as it strongly bears gothic elements.

The relics of StTheodoros of Byzantium -the patron saint of the city- are kept intact inside the church and thus the monument constitutes an important place of pilgrimage.